When it comes to large companies and businesses, the best way to guarantee security in general is by counting on with an access control system.
In this way, property owners can rest assured thanks to a comprehensive technology that will allow to monitor, manage and control commercial premises entirely.
Premier Locksmith can help you in the case you need to install, replace or improve an access control system in Edinburg.
Secure your premises by knowing and controlling exactly who enters and exits your business and when.
To enjoy all of these benefits, you need to rely on a top-notch access control system that requires different components that work together to restrict, monitor and register admission.
But not to worry, you are all set with us and our skilled and trained team of technicians in the field.
Have control over your business with access control system servicing in McAllen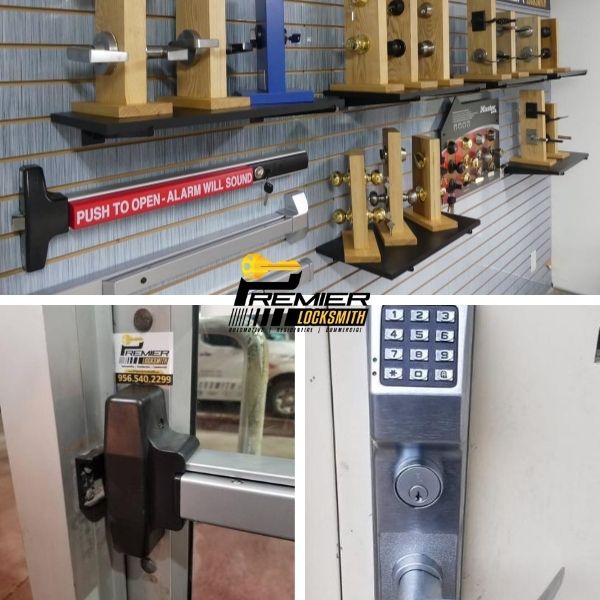 In details, an access control system allows you to protect, control and monitor your business in presence or at distance.
By using secure locks, key cards, biometric and passwords, you can restrict and record entries and departures of employers, as well as other events in your property.
Premier Locksmith offers all-inclusive access control system servicing in Edinburg.
This means enterprises, companies and businesses in general in the city can hire specialized professionals in the field of access control, which is a big industry in the United States.
Specifically, this comprehensive approach covers from installing new access control systems to upgrading current ones that need to be enhanced.
With our assistance, you get to have a precisely designed access control system, as well as maintenance tasks to ensure proper performance.
Protect and monitor your business from anywhere and make sure it works at its full potential every day.
Only a highly advanced and proper access control system let you do that.
Get support in each part of the process: installation, enhancement, repair and maintenance at Premier Locksmith and look after your business in McAllen.
Would you like to know more? Call us at (956) 540-2299 and we will design solutions especially for your business and premises.
Possibilities of access control system solutions at Premier Locksmith
From designing the access control system depending on your premises to actually install every component, at Premier Locksmith we have your back in everything regarding this service.
Our customized solution is possible to carry out only through the assistance, skills and advanced knowledge of certified and licensed technicians, with the required expertise and experience to perform such complex task.
Broad access control system installation involves from designing the layout and mount the wires and locks to install the access control panel, readers and energy backup units. By doing so, business owners can monitor, control and manage facilities and employees in general, reliably.
Specialized features of the access control system service we provide are:
Enjoy of basic on-the-spot physical security with locks that open only through key card, biometric readings or PINs.
Keep track of employee schedule verification, every day with proper logs and even when you are not present as business owner.
Know exactly the time of access and identification of employers and workers in general leaving or arriving the premises.
Apply an easy and reliable after-hours protocol management for proper counting.
Completely online operation, so business owners can see, access records and be aware of people entering the premises.
Permanent control through different devices and command center, with functions of overriding, automatic alerts and other options.
Why do you need an access control system in your business?
Not counting on with an access control system in any commercial property would result in risks. For instance, anyone could have access without a code, PIN or any other method of authentication.
In the same way, possibilities of monitoring and managing the business are off the table without and access control system. This leads to disorganization, blindness respecting the business condition and eventual losses.
Therefore, having a top-notch access control system in medium to big companies and enterprises is critical. Fortunately, business owners in McAllen count on us to carry the job, whether they need installing a new one from scratch or improve a system that is already installed.
If you are searching for an access control system solution in McAllen, Premier Locksmith is the company to hire. Put such important work in hands of experts and a business with over a decade of experience and great reputation.
Have peace of mind on having a responsible, skilled and certified contractors in your property who can get there in minutes, wherever you are in the city. Request a free estimate online accessing today.