Dealing with issues respecting keys and high security locks in your commercial property may lead to annoying situations and even losses.
One example is lockout incidentals, among many others that require a spare key or a key cutting solution. Fortunately, you count on a reliable business key duplication service in Pharr, with the support of Premier Locksmith so you never suffer the event of being left out of your workplace.
For key cutting, key duplication, rekeying and lock replacement, among other services, we can help you quickly and fast.
Especially if you are having an emergency in your residential or commercial property or even your car, our trained and licensed staff of professionals cover any locksmith service you might need.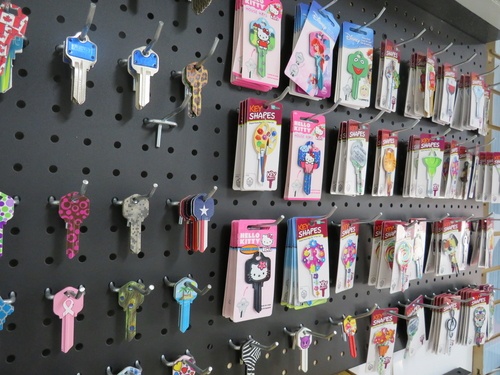 Commercial key duplication and cutting at Premier Locksmith
Do you need spare keys in order to avoid uncomfortable situations in the future at your business?
Rely on our commercial key duplication service and always have a key at hand to open your store, hotel or other property and keep on working.
Premier Locksmith is the specialized company that offers comprehensive key duplication and cutting solutions, specifically designed for high security locks in commercial buildings.
To work with this type of locks, there is need to have skilled technicians so they can address rekeying and other locksmithing process as intended.
There are technical differences between regular and high security locks that must be considered. 
With our commercial key duplication solution in Pharr, you get to have a duplicated key in no time either by having another key to copy, or by cutting the pattern given by the lock.
The team of professionals we have are equipped with everything they need to assist on-the-spot.
Whether you have an available working key or not, you never have to worry about another lockout incident once again.
With a call at (956) 540-2299 we will be at your property in less than 15 minutes, anywhere in the city to solve any lock or key issue you are dealing with. 
Precise business key duplication services in Pharr
When it comes to provide a business key duplication service, precision is a very important factor.
Like this, getting the actual patterns of any key adequately copied allow it to slide in smoothly and easily in its corresponding lock and open it.
The only way to achieve this is by using state-of-the-art metal key blanks and accurate key cutting machines.
Like this, recreating the exact key for spare use or to free our customers from any annoying situations as a lockout is possible. 
Among the business key duplication solutions we provide in Pharr by the hand of properly trained and qualified locksmiths, there are:
Key duplication:
get a key copy from a working key available in minutes, accurately cut so you always have a spare key at your disposal.
Key cutting:
in case of not having a working key, our staff is able to precisely cut a new one by following manufacturer´s code, providing patterns to be cut precisely.
Lock replacement:
if you are dealing with a risky situation or need to enhance and improve security in your business, lock replacement is the best solution. Premier Locksmith is the company for the job.
Lock rekeying:
would you like to change keys without changing the actual locks?
This is possible by taking advantage of our lock rekeying solution.
No matter the industry, at our company we count on with the expertise and professionals to carry out any business key duplication, cutting or any other locksmith procedure and servicing in your commercial property.
Do you run a hospital, factory, school, warehouse, store or any other facility? We have your back.
When do you need key duplication servicing?
There are many situations in which you might need a key duplication solution.
If you lose your keys to your business and there is no spare key laying around, you will need a key copy to access your property. 
A damaged key that no longer works or give trouble to open the lock is another case in which getting a copy is the best decision, particularly for high security locks.
Even if you are not dealing with a lockout or similar situation, having a spare set of keys is always nice to have.
Enjoy all of these and other benefits at Premier locksmith. For business key duplication solutions in Pharr, call us and a trained and certified team of locksmiths will help you fast anywhere in the city.
Hire an experienced and responsible company, with reputation and many years in the business with a record in customer´s satisfaction rate. Visit Premier locksmith to get a free quote.