Get a new key for your vehicle
Premier Locksmith, you will be able to enjoy of car key replacement in RGV while covering the region entirely. 
Losing your car keys is always an annoying thing to deal with, as well as any other related issue.
Make sure of using a car key that is actually in perfect condition, and avoid damage to the ignition, door locks and more. 
In any case, we have the most qualified technicians for the job and ready to address any project and emergency.
This involves from in-house to on-spot support, as valuable service approaches our customers always appreciate.
Replacing your car keys easy and reliably at Premier Locksmith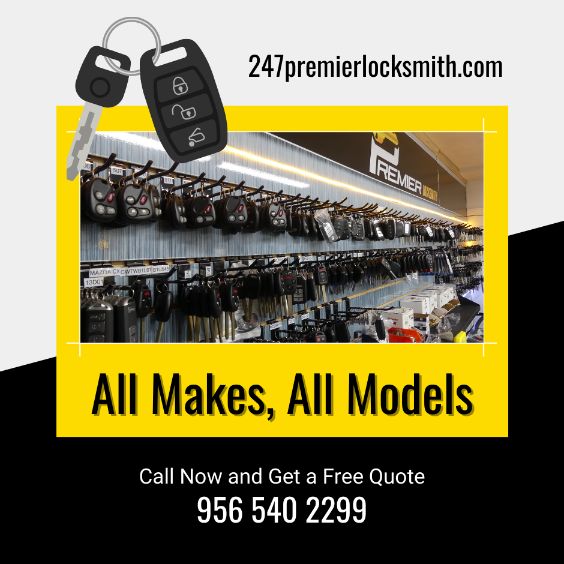 Unfortunately, there are many situations in which you deal with a key loss, usually being the most inconvenient ones.
Whether you are getting from work or you are leaving to do important stuff, you realize you have a car key issue. 
For instance, you notice your car key is damaged and the ignition will not start and door will not open.
Or, it gets worse by realizing you do not have your vehicle keys with you; dealing with a lockout, stolen or lost keys.
The result is the same, possibility of using your car is off the table. 
In any of those situations, calling actual experts that can offer on-site assistance and help becomes imperative and valuable.
Covering the entire Rio Grande Valley region, Premier Locksmith provides specialized automotive solutions, focusing on car key replacement. 
No matter the type of vehicle you drive and its related key, we can assist in-place and help you recover access to your vehicle.
Get assistance quickly and fast in RGV, with certified, bonded and licensed technicians and locksmiths that will come to you in a matter of minutes. 
From the most traditional basic car keys to transponder; fob and laser keys, our staff has the required expertise in replacing them.
Including programming, cutting and configuration, Premier Locksmith has you covered in anything related to car key replacement in RGV. 
Comprehensive car key replacement solutions available in RGV
Regarding car key replacement solutions, we provide an extensive set of services with on-spot and in-house approaches.
This with the intention of addressing different customers´ requirements on the road and in general, when it comes to car keys. 
In spite of the situation; lost or stolen keys, damaged pieces; lockouts and unavailability to drive or access your vehicle, our staff can assist you.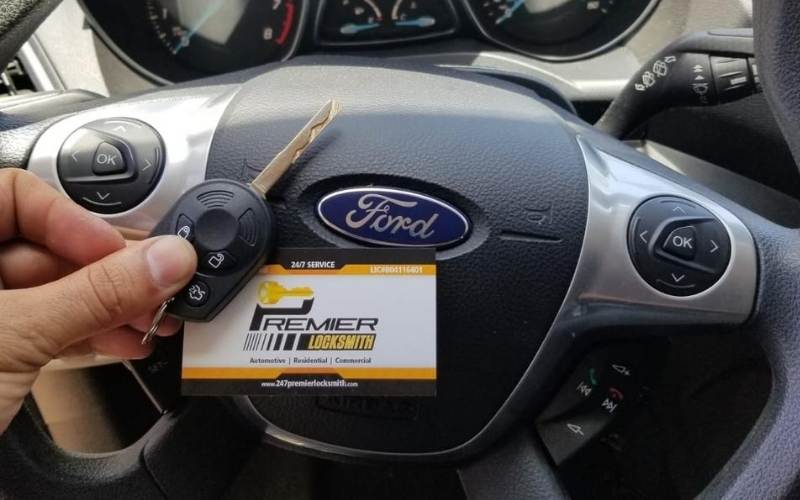 Our automotive locksmith services in RGV include: 
Car key replacement:
With car key replacement options, you can get a new spare set and never worry about it for a long time.
This is what needs to be done when the keys of your vehicle get stolen, lost or damaged.
Whether VAT, fob´s, laser-cut or traditional keys, our professional address the situation in the best way. 
Key programming:
For some time now, car keys include different security systems against intruders, avoiding unauthorized access and driving.
It is done by using diverse technologies; transponders, fobs, chips and other that act as receivers and transceivers.
Our team is able to configure new or current car keys, in case of communication issues. 
Key extraction and ignition repair or replacement:
A damaged key can be the origin of other issues, when it gets stuck in the ignition and does not turn.
In this case, a broken extraction is needed so the vehicle can be driven again.
Commonly, key extraction can result in ignition damage, which can be addressed by our professional team of locksmiths. 
Door lock repair and replacement:
frequently, lockouts and losing access to your own car is consequence of a bad or damaged door lock; which should not be forgotten is the same ignition key
With an on-spot approach, we can solve situations respecting door locks; by replacing or repairing them so you can recover access and solve any lockout. 
Whatever your car key issue is, we can help
Having trouble accessing or driving your car? A car key replacement in RGV is probably what you need.
Premier Locksmith is the company of experience that can help solve any related situation. 
Get new keys right there on-spot, easy and fast with our emergency service that covers the entire city.
No matter what kind of vehicle you drive and type of key you own, our locksmiths are willing to help and solve any problem. 
Call our technicians in at (956) 540-2299 and get help quick on the road or in-house assistance, and forget about expensive car dealers.