Doors are definitely more than a simple metal or wood slab and a lock; they are actually complex with working parts and other mechanisms. Such devices allow doors to provide protection and simply be a doorway to your property.
Now, for any door to give ultimate functionality, a mechanism to add is a door closer.
At Premier Locksmith, take advantage of door closers installation service in RGV and enjoy plenty of benefits. 
If you are having a problem with a door closer or you need a new one, with us you can find installation, repair and maintenance solutions respecting this device.
Give your commercial property an extra layer of protection and also that modern tool by installing a manual or automatic door closer at your office or business.
General door closers installation and repair at Premier Locksmith
A door that opens freely or one that never does or slam shut while opening or closing is very annoying and unsafe.
Particularly in an office or any other similar commercial building. 
With a door closer, all of these issues are avoided immediately, by closing the door gently and automatically so it remains this way when not in use.
This is ideal and in many cases mandatory. For instance, in an office where air conditioner is trying to be kept inside, an open door would cause losing it and therefore the AC unit would work inefficiently.
Examples are quite limitless in relation to cases when a door kept shut is the best, while at the same time you need to provide access to customers and workers in general.
At Premier Locksmith, we have at your disposal skilled and qualified technicians in the profession of installing, repair and maintain door installers. Keep your device in proper condition or install the best in its kind.
Guarantee a secure space with a door that remains shut and opens smoothly when needed. Do you need more information? Call us and hire a door closer installation solution in RGV.
What does include our door closer installation service in RGV?
Specifically, in order to carry out their function of making opening and closing doors completely safe, door closers comes in many types and sizes.
Depending on the manufacturing material of the door, its measures, design and conditions of use, there is an ideal door closer. 
In general, door closers are categorized in manual and automatic. Manual are most traditional that work by pushing, returning the door to place smoothly. On the other hand, automatic door closers work with sensors and electrical mechanism, ideal for handicap users.
We specialized in installing, repairing and maintaining door closers of any type for residential and commercial properties in the whole area of Rio Grande Valley.
From traditional to modern door closers concealed in frame or floor, with or without cover, we have your back. 
Replace that door closer that is whining or making the door remaining open or impossible to access, or have it repaired if possible.
If you need to install a door closer from scratch as well, we can help through a qualified and licensed team of technicians who work under the highest quality standards.
Our experience allows us to recommend the best door closer brands for every project: Norton, Hagar, Falcon, Yale and more. 
Common problems when you do not have door closers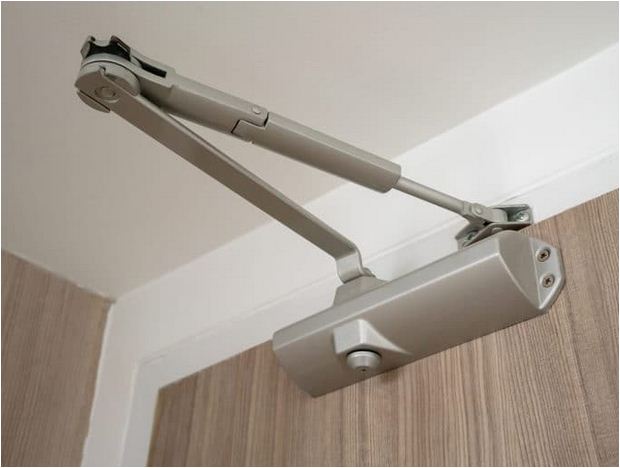 Not counting on with door closers may bring plenty of issues in many situations that involve security, reliability and efficiency in the workplace and residence.
For instance, security doors or also known as fire doors always include a door closer, ensuring it stays close.
If this is not the case, during a fire hazard it may spread without control.
Also, heavy doors without door closers may be risky for children when opening or close.
In fact, while these are just a few examples, in many states in the US having door closers in public spaces is mandatory by law.
Why hiring us for door closers installation solutions?
With more than 10 years of experience, we know what we do at Premier Locksmith.
One project at the time, our certified staff will be capable of carrying out any locksmithing task you need in your commercial or residential property. 
Service, responsibility, professionalism and teamwork are some of the values we base our work, while upfront pricing, emergency and mobile in minutes, top-notch installation and warranty or some of our work characteristics.
For door closes installation in RGV, get in touch with Premier Locksmith. Call us at (956) 540-2299 and we will be able to help installing, repairing or fixing that door closer you need at home or in the office.